If you have ever tried losing weight, then you know very well that it's not easy. Sure, there are many weight loss solutions out there. Unfortunately, most of them hardly ever work. Others are just insanely overpriced for most people to afford.
The good news is that there are still some products that actually work. But how do you find them? And is Thermofight X one of them?
In this Thermofight X review, we take a look at what this supplement is all about and whether or not it works.
What is Thermofight X?
Simply put, it's a dietary supplement by It Works! that claims to help fire up your weight loss. According to the manufacturer, this formula can help you shed twice as many pounds compared to diet alone.
But how? Apparently, it is made up of clinically proven weight loss ingredients that help your body get into fat-burning mode. Basically, it offers a simple and convenient way to lose weight by activating thermogenesis.
Besides that, this formula is suitable for weight management. This is because it can help your body fire up metabolism and even accelerate ketone production. Therefore, you don't have to worry about regaining the excess pounds that you had already lost.
Also Related
A Closer Look at BlueChew Pills
Is Andro 400 A Good Testosterone Booster?
How Does "It Works! Thermofight X" Work?
It's simple! The supplement comprises scientifically-proven ingredients that assist with thermogenic weight loss.
These ingredients work in synergy to activate thermogenesis. Consequently, your body can achieve an ideal fat burn mode.
What's more? The formula contains powerful green tea extracts such as Greenselect Phytosome. And according to the manufacturer, these extracts have clinically-proven weight loss results.
Additionally, the product works by helping your body to produce ketones so you can quickly achieve ketosis. As you might know, the body tends to burn more fat when it's in ketosis.
As if that's not enough, Thermofight X may also help balance your blood sugar thereby reducing sugar cravings.
What Is Thermogenesis?
This is a metabolic process where the body burns calories to produce heat. As such, this process may promote weight loss by increasing your body's calorie burn.
Generally, a lot of factors are known to induce thermogenesis including different types of diet. Thermofight X contains ingredients that are known to power up your thermogenic rate including cayenne pepper and black pepper.
Thermofight X Ingredients
This powerful supplement is packed with active ingredients that boost metabolism, accelerate ketosis, and melt away stubborn fat.
On the flip side though, most of its ingredients are available in proprietary blends. As such, it is hard to determine the exact quantity per serving of each ingredient.
The good news? It contains a lot of ingredients that have scientifically been shown to activate thermogenesis. A 2005 study revealed that caffeine, capsaicin in red chili peppers, and different teas like green may increase thermogenesis.
That said, let's now take a look at the key ingredients that make up this weight loss supplement.
Proprietary Green Tea Blend 437.5 mg
This blend is made up of two ingredients including Greenselect Phytosome green tea (GSP) and green tea leaf extract.
Both of these ingredients are popular for their antioxidant properties and thermogenic effect.
According to different studies, GSP was shown to help individuals lose and maintain their ideal weight. For instance, in a 2013 study, Greenselect Phytosome was shown to be effective for weight and waist changes.
But here is the thing; we found conflicting information about the exact quantity available in this blend. The official website states that the blend contains 437.5 mg per serving and 302.5 mg on Amazon.
Proprietary Thermogenic Blend 75 mg
As the name suggests, this blend comprises thermogenic ingredients including Trikatu, cayenne pepper, and cinnamon bark.
Trikatu is an Ayurvedic herbal blend of ginger root, long pepper (fruit), and black pepper (fruit). These herbs work together to support digestion and boost metabolism thanks to their thermogenic action. As such, they are reported to be very effective at weight management.
Cayenne pepper and cinnamon bark, on the other hand, are thermogenic ingredients. Cayenne pepper contains capsaicin. And according to, different studies have revealed that capsaicin may help stimulate thermogenesis by increasing the energy expenditure.
In another study published on Science Daily, cinnamon was shown to improve metabolic health by acting directly on fat cells. Basically, it induces the cells to burn energy through thermogenesis.
On the flip side though, this blend seems like it's underdosed. Therefore, you may need to take more pills per day for the best results.
Green Coffee Bean Extract 100 mg
This ingredient is marketed as a popular weight loss supplement. While it's shown to be effective in mice, there is no scientific evidence to support its effectiveness on humans. Therefore, more human studies are needed.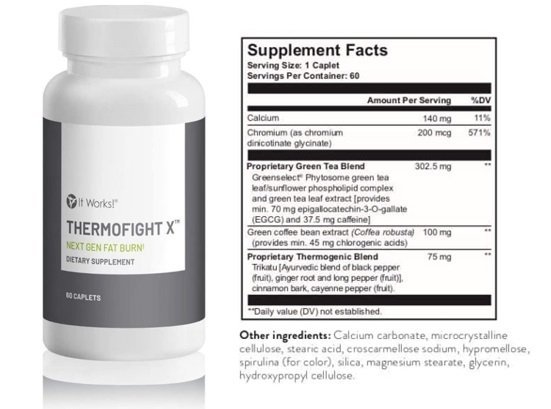 How to Take It
The manufacturer recommends taking two caplets per day. You can take one in the morning and the other one in the afternoon preferably with food.
Worth mentioning is that this product contains high levels of caffeine and can energize your body. Therefore, it's advisable to take the second caplet within four hours of your bedtime.
Any Potential Side Effects?
Thermofight X is non-GMO, soy-free, dairy-free, and keto-friendly. Therefore, it's generally safe. However, individuals that are sensitive to caffeine should not use the formula as it could lead to side effects like:
Irritability
Sleep problems
Headache
Nervousness
Rapid heart rate
Additionally, some users reported having experienced diarrhea, nausea, and vomiting after taking the caplets as recommended.
Pros
Backed by It Works! 30 days hassle-free return policy
Does not contain any artificial flavors or colors
Vegan and keto-friendly
Packs powerful weight loss ingredients
Includes chromium to help keep your sugar cravings under control
Helps your body reach ketosis much faster
Available in easy-to-swallow caplets
Cons
Results may vary from one person to another
Not ideal for people sensitive to caffeine or those trying to avoid this stimulant
Most of its ingredients are in proprietary blends
Final Words: Does it Work?
Overall, this dietary supplement has received mixed reviews. Some people claim that it works while others say it's a gimmick so you should not waste your money.
But in our opinion, it seems like a relatively good product. This is because it contains some potentially powerful weight loss ingredients. Unfortunately, it's hard to tell the exact amount per serving in each of these ingredients.
Therefore, we cannot say for sure whether this product really works.